Alessandra Nicolin, Italian artist and Ball Jointed Doll Maker 
Italian artist Doll Maker specialised in Porcelain Ball Jointed Dolls
Hi everyone, I'm Alessandra and I make porcelain dolls called BJD Doll or Ball Jointed Doll.
I live in Vicenza, a city in northern Italy exactly between Milan and Venice.
I consider myself very fortunate as I live in Palladio, an open-air museum rich in history and culture where I find all my inspiration, jumping from art and history, fashion, people and nature.
In Italy there are many excellent artisans who work in gold and ceramic workshop handed down from generations. I didn't have this luck, however I feel that a natural desire to create excellent and sophisticated works of art flows in my blood.
When I work on my dolls, the whole house becomes a workshop: the tavern has officially become the place where I do most of my job, the pouring, polishing and baking are made down in my tavern. The whole dirt Doll building process happens down there 😀 
If you visit me,  everything between the living room and the kitchen it's a complete workshop;
 you will find every shelf  occupied by fabrics of various colors, boxes filled up with small items and materials, flowers everywhere, lace, a corner for sewing clothes, another corner where I prepare wigs and obviously my desk where I often work on my social media while prep my lunch while I look at the little birds eating  crumbs I left for them in the garden.
Fortunately my family supports my work and they don't complain to much for my workshop house. I definetely take this opportunity to thank them for the patience they have with me and the support they give me.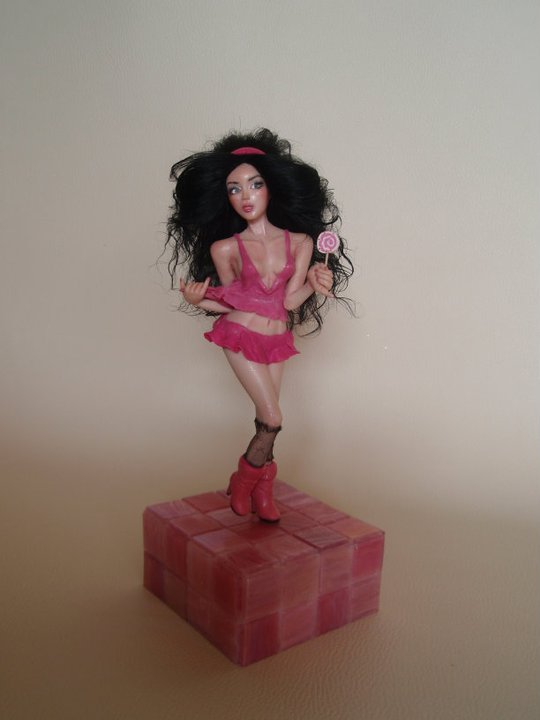 It was 2010 when I created my first polymer clay sculpture learning from web artists. From then, I never stopped my passion and I continued create BJD Dolls.
At high school I studied at the Institute of Art in Venice, earning a Master's degree in Applied Arts and the Maturity of Applied Arts in Metals and Goldsmith with the highest grades. Then I took some other courses always in the goldsmith field.
I worked in jewelery as a pattern maker and jewelery designer, but at the time I didn't know what I wanted. After the marriage and the birth of my two daughters I chose to dedicate all my time to the family.
I had soo many different passions over the years, such as painting, airbrushing, sewing … And after a long period of creative lethargy, one day while surfing the internet I came across the unknown world of the magical ooak creatures (one of a kind): they were fairies, mermaids and beautiful human figures. It was love at first sight.
After 6 years of sculptures that have given me so many satisfactions with various recognitions, I felt the need to evolve moving from static creations, to real dolls that can change position through joints in the joints. These dolls have Asian origin and are called bjd (ball Jointed dolls) or articulated dolls.
A great change, a complete reintroduction from scratch facing many difficulties to discover a new material of which I have not found much information.
The porcelain artisans in my area couldn't help me much regarding the creation of the BJD Dolls, because making dolls isn't like creating porcelain vases.
My dolls are made with love and the love for beauty.
They are the combination of different styles, modern and ancient materials combined together.
 It's very satisfying to create them because through them I can put into practice all the techniques I know. This type of art includes many styles, during the process I am a sculptor, then a make-up artist, hairdresser, seamstress and often also jeweler!
I want to let everyone know about my dolls and therefore I do my best to participate in many events as possible around the world. I have been to the official presentation back in May 2018 during the Italian Doll Convention in Milan (Italy) and in November of the same year I exhibited in Prague at the Doll Prague Exhibition. In February 2019 I participated in the UnConventionalDoll Bologna (Italy), in June at the Toy Museum for the London Fashion Doll Festival (England) and then again for the second consecutive year in Prague at the Doll Prague Exibition. 
I can't wait to meet you in person and to know what you think of my dolls, perhaps keeping one in your hand.